Vehicle Maintenance Reporting Standards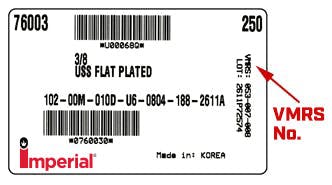 We are the only national distributor of maintenance repair parts to offer comprehensive customer purchasing reports and packaging labels that feature VMRS 2000 coding.
VMRS stands for Vehicle Maintenance Reporting Standards. These standards were established in 1970 as a universal language for fleets to develop a uniform record-keeping practice for equipment maintenance. VMRS 2000 codes are year 2000 compliant.
The six most frequently cited advantages to the VMRS 2000 program are:
Provides a uniform method for recording data in a computerized system.
Provides an audit trail.
Provides a means for identifying and establishing warranty claims, even if part numbers have been changed.
Gives fleet managers a standard code for querying their computer's database.
Shows vendors how their parts and services perform in the context of a fleet's operations.
Makes the most of an ever more specialized range of equipment.
VMRS 2000 can also be used to track labor related costs, make budget writing easier, maximizing vehicle deployment, and in general, help fleet managers run their maintenance and repair facilities more efficiently.
VMRS 2000 Codes are endorsed by the TMC (Technology and Maintenance Council) as an industry recommended practice.