Order Approval
Built To Suit Your Process
Putting purchasing decisions in the right hands is essential and your time is valuable. Spend less time preparing and submitting purchase orders for approval with Imperial Supplies' order approval feature. Available on imperialsupplies.com or on the Imperial App to approve orders anytime, from anywhere!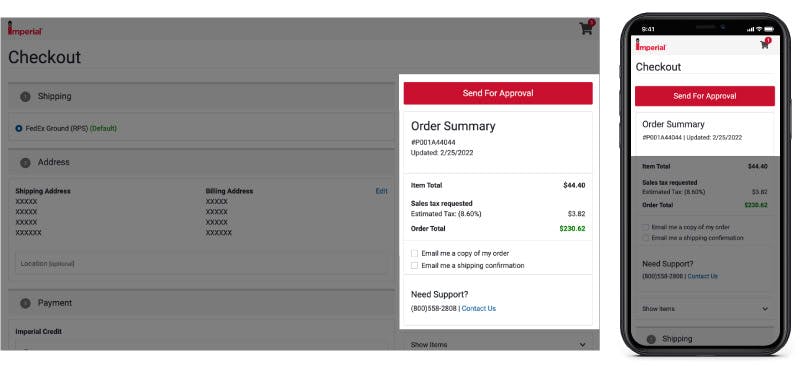 As A Buyer
Create orders and check inventory while walking through the parts room, around your truck or in the shop. Then, add a payment and send for approval. You will be notified of any changes made to your order by the Approver.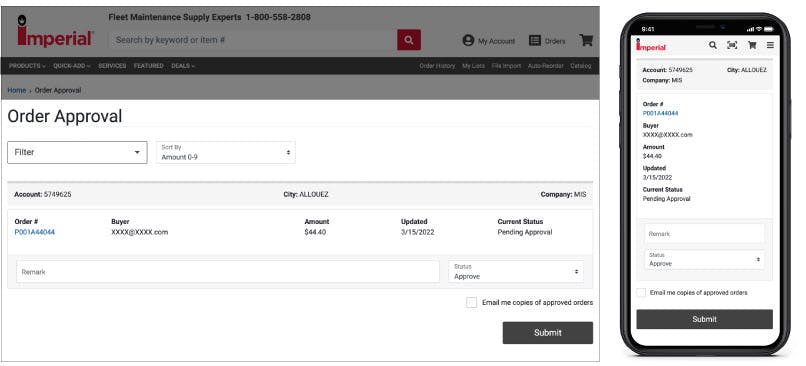 As An Approver
When an order is placed that requires approval, you will receive an order approval notification email. Log into your online account to approve, decline or delete the order. Orders will remain in pending approval status until approved, declined or deleted. If an order is declined, the Buyer can then update the order and resubmit for approval.
Additional Features
Remarks: Approvers have the option to send a remark to the Buyer when approving, declining or deleting an order. These remarks can be seen by the Buyer in their email notification and on the order itself.
Customizable Experience: From simple to complex, order approval is highly customizable. You can specify approval conditions when ordering certain shop parts or define amount ranges when order totals require multiple levels of approval.