My Lists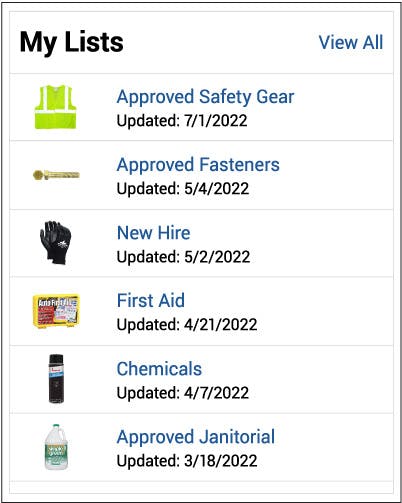 Check Organization Off Your List
Imperial's My Lists feature allows you to easily create your own ordering forms in your web account. Simply title your lists according to your operational needs and enjoy quick selection and ordering functionality. No second-guessing which items are preferred, compatible with your equipment or are standard issue products for your employees.
These standard Lists are immediately available to any web customer from the web interface:
Top 50, 100, 150 and 200 Items: These four forms contain the top items purchased by your location, by dollars purchased.
New Products: This form contains all of the new products added to the Imperial's product line in the last 90 days.
Labeled in Shop: This form contains all the items that were labeled in your shop during an Imperial Field Service visit. This form is only be available if you've received field service from Imperial.
Frequently Asked Questions
How can I customize or update My Lists?
Utilize the List Actions menu to copy or delete lists. Utilize the Item Actions menu from within a List to add or remove items.
Where else is a list view available?
Utilize the "View as List" option on the Assortment Item Pages to show the content of a pre-packaged assortment & adjust re-order quantities for an assortment in your shop. Invoice Detail Pages can also serve as a My List, showing all items you ordered at a specific time. Any individual invoice contains the same ordering functionality as My Lists.
Can I create my own custom lists online?
Selecting Add to My Favorites will automatically add the item you are viewing to your Favorites list. You can remove items using the same link or from the Favorites list in the My Lists section of your logged-in home page. A Dedicated Account Advisor can support you in creating custom lists.
View the job aid here.