Inventory Reduction Program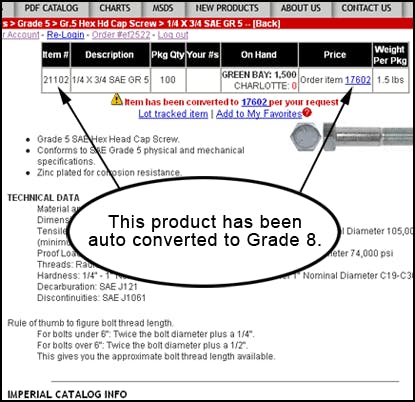 Product Block Out/Product Auto Covert
Imperial's Product Blocks program can help you ensure that critical purchasing decisions are made at the corporate level, not the shop level. This highly effective program can reduce your costs and put your corporate office back in the driver's seat.
Here's one example of how it works. Let's say you specify cap screws smaller than 1/4" are to be Grade 5 and anything greater than 1/4" are to be Grade 8 cap screws only. However, one of your locations places an order for 3/8" Grade 5 cap screws instead. Rather than shipping the Grade 5 cap screws, we would automatically convert to Grade 8 cap screws.
Product Standardization
Most maintenance shops suffer from inflated costs caused by brand preference due to the influence of a route salesperson or the preference of the mechanic. With Imperial's Product Standardization Program, you can avoid those traditional pitfalls. Our product specialists can analyze your shop's purchases and make recommendations for products that are equal or better in quality but cost less than most national brands. Product standardization across your entire organization can lower your total cost of procurement.
Expendure Limits
Most fleets have monthly maintenance budget targets for individual shops. The difficulty in meeting these targets is compounded by the fact that the information needed to limit expenditures is received from vendors. Imperial tracks the dollar limits for each location. When we receive an order from a shop, we will alert them if they approach or exceed set limits.