Field Service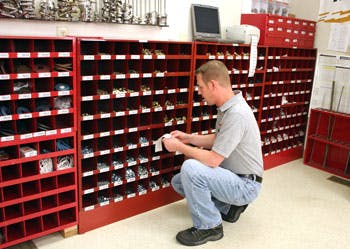 Who Qualifies?
Shops that commit to purchasing on a regular basis, across a number of different product lines, or those that recognize Imperial as a preferred vendor.
How Does It Work?
A Field Service Technician will visit your location to clean, organize, and label your cabinets, drawers, and bins with barcoded Imperial labels. Each label lists the part number, full description, and box quantity for easy ordering. Field Service Technicians will identify suspect or counterfeit fasteners and remove them from your bins for your review.
They will also consult and recommend improvements in the efficiency of your parts department, as well as organize your general parts room for maximum efficiency. Our Field Service Technicians barcode label all supplies, organize your parts room for automated purchasing, and provide training to operate the ScanTel® scanner unit.
What Are The Benefits?
A clean, organized shop that is more efficient.
Control of your inventory, which means considerable cost savings to you.
The removal of commissioned sales reps from your shop.