Modern cars can host a wide range of electrical problems. From lighting malfunctions to an ignition that won't turn, electrical complications can make a vehicle inoperable. Find the right fuses, cable wire, terminals and other electrical accessories for your project needs.
---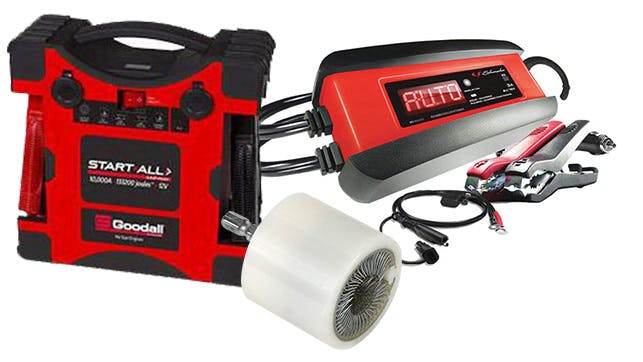 Batteries
Whether the temperature outside is extremely hot, extremely cold or just average, maintaining your vehicle's battery is always important. Imperial has all the products you need to help keep your batteries in tip-top shape.
Battery Chargers
A battery charger is a device used to put energy or power into a battery when a battery's power has been "drained" or gone below normal. Battery chargers are usually identified by the rate/speed that they charge in AMPs. Slower charging of batteries is best practice; it takes longer, but will give the battery a more complete charge over fast charging. Also, batteries such as AGM/gel cells may need to have a special charger.
Charging Packs
Portable, some hand-held, some can charge smart devices like mobile phones, iPads, MP3 Players, etc.
Wheeled Battery Charger
Portable, designed to be used in any weather condition. Some models may also be able to provide a jump start. Cable lengths tend to be longer so they can reach the battery location. Length can differ between models.
Charging Station
Have the ability to charge multiple batteries at once and can be wall mounted, stationary or portable.
Battery Testing
A battery analyzer/tester is an electronic device used to test the state of a battery. It will test the actual charge present and/or its voltage output, and in some models, a more comprehensive testing of the battery's condition. Battery analyzers and testers come in a variety of options and features. Some are hand-held, some can print results and some are on carts.
Hand Held Battery Tester
Small in size for more portability and great for service truck, it has the ability to test the battery, the starter, the alternator and the vehicle ground. Some models include a carrying case and a printer to print results.
Auto Battery Analyzer With Cart
Specifically made for automotive and heavy-duty truck applications. They can store up to 150 previous test results. Some models are compatible with all battery types. A printer can be added as an alternate option for printing results.
Auto Battery Analyzer Without Cart
This battery analyzer and tester is the same as the product before it, but does not come with a cart.
Battery Starter/Booster
A jump start, also called a boost, is a method of starting a vehicle with a discharged or dead battery. A temporary connection is made to the battery from an external power source, which could be another vehicle through the use of jumper cables or through the use of a jump/boost pack. Battery booster packs come in a wide variety of styles and sizes with many different features to accommodate any size fleet.
Jump Starter
Jump starters can be portable with some units being small enough to fit in a glove box. Jump starters are not meant to provide a charge. Batteries should still be charged after receiving a boost.
Mobile Jump Starter
Wheeled jump starters offer portability. Most can offer a jump start as well as charging power. Some models are made for any weather condition. Larger units will charge a battery up to 20x faster than hand-carried units. This would most likely be used in a shop, on the shop grounds or even in the parking lot.
Booster Pack
Booster packs are portable and come in all different sizes with different features available depending on the model. This unit specifically is heavy-duty and impact resistant which is great for job sites, professionals and heavy-duty field use.
Shop Battery Chargers, Booster Packs & Jumper Cables
Shop Now
Add-Ons
Whether you're looking for equipment for charging, jumping or testing a battery, there are several items that can make the processes easier and/or safer.
---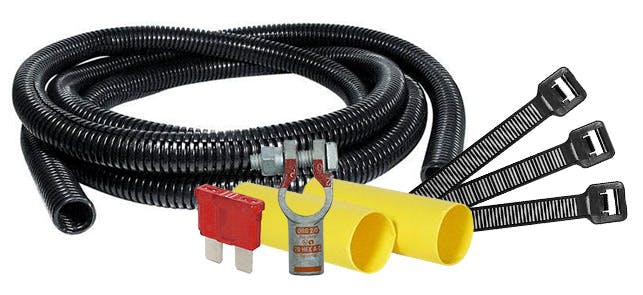 Electrical Essentials
From wire management to fuses and terminals, Imperial Supplies carries all the electrical essentials you need to keep your shop and vehicles powered.