Vehicle Parts & Accessories
Imperial carries the products you need to get the job done. With over 2,500 body clips and hardware, an extensive wiper blade offering, key machines and more, Imperial is there with the products you need for any project that comes up in your shop.
---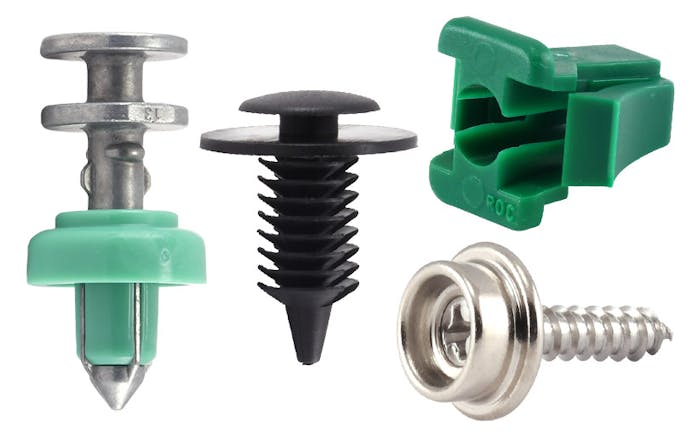 Body Clips & Hardware
Imperial carries over 2,500 body clips, retainers and hardware to complete the wide array of jobs that roll into your shop. Also known as trim and retainer clips, automotive body clips are small but essential parts of every vehicle. From securing body trim and splash panels to installing interior panels, such as on the door and dash, body clips help piece together the aesthetics of every vehicle.
Body Clip Removal and Replacement
The past 20 years has seen metal screws and bolts replaced throughout the vehicle by plastic body fastening clips, also named trim or push retainers. These clips hold everything from undercarriage splash panels and engine bay covers, to interior door and dash panels.
Although durable, during removal these plastic clips can be quite fragile. Using the right tool allows them to be removed and reinserted easily. If a screwdriver or flat piece of metal is used, you can destroy the fastener or even damage the panel.
Body clips work by expansion. Similar to drywall fasteners, body clips expand behind the panel once inserted through pre-drill holes. The two primary categories of body clips are push-in and screw-in. Closed bottom, barbed (or Christmas tree), screw type and open bottom fall within those. To protect the clip during removal, always use the correct tool.
Essential Body Panel Removal & Replacement Tools
Although there are dozens of tools for removal and replacement of body panels, these basic tools are essential.
Panel Clip Removal Pliers
Operating similar to regular pliers, these have thin flat ends that can get under larger clip heads. When squeezed, the ends spread open, applying force to the clip. This tool reduces movement and is ideal for avoiding damage to surfaces.
Trim Fastener and Molding Removal Tools
These tools come in many different sizes and are used to remove and reinsert body clips in tight spaces. In cases of hidden attachment points, a tool with a 90-degree bent head maybe be required.
Imperial has a wide array of body clips available for your shop's needs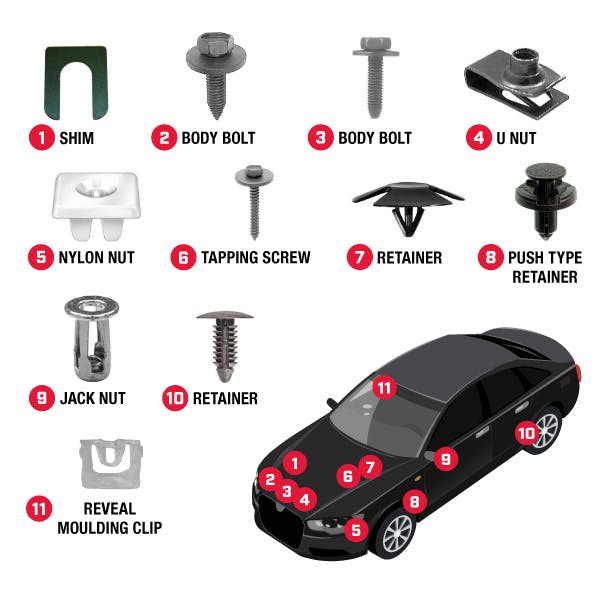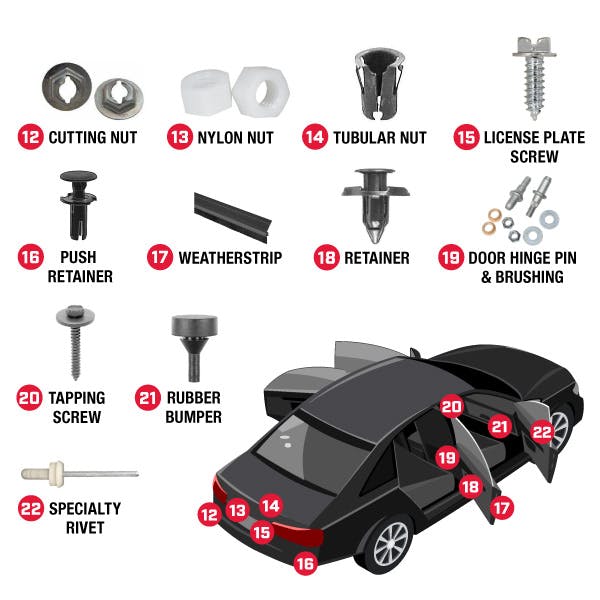 ---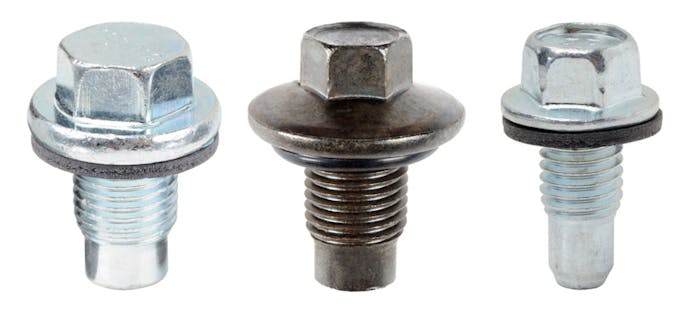 Oil Drain Plugs & Gaskets
Motor oil is the lifeblood of a vehicle and its engine. During an oil change, the oil drain plug is used to drain oil from the vehicle pan. Imperial offers a diverse selection of oil drain plugs, gaskets and drip pans designed to help your shop service and maintain a wide variety of vehicles and keep them running like new.
Where is the Oil Drain Plug?
Oil drain plugs are usually pretty easy to find on the lowest point of your vehicle oil pan under the engine. This may be on the bottom, or more likely, the side of the pan.
How Do I Know if it's Leaking?
Place some cardboard under your vehicle's engine and let it sit over night. If you notice puddles or streaks, you have a leak. To find out if you have a slow leak, clean the area around the oil plug until you can see the metal pan. Check periodically to see if oil is starting to spread out on the clean metal.
How Do I Fix a Leaking Oil Drain Plug?
If you're noticing a leak from the oil plug, there are a couple of things that can be checked. The gasket is a seal that prevents an oil leak as the oil circulates between the engine block and oil pan. If this gasket is faulty, you will need a gasket replacement. If the bolt or oil pan have been cross-threaded, the oil drain plug needs replacement.
---
Wiper Blades
Knowing which blade is right for you and your vehicle is essential. The right match makes sure you're seeing what's ahead clearly. Our Wiper Blade Selector makes finding the correct high-performance solution easy. Plug in your vehicle type, make, model and year and you'll be shown a range of options that will fit your vehicle. You'll be able to choose from the most trusted brand names, styles and materials.
Imperial offers a selection of blade types
---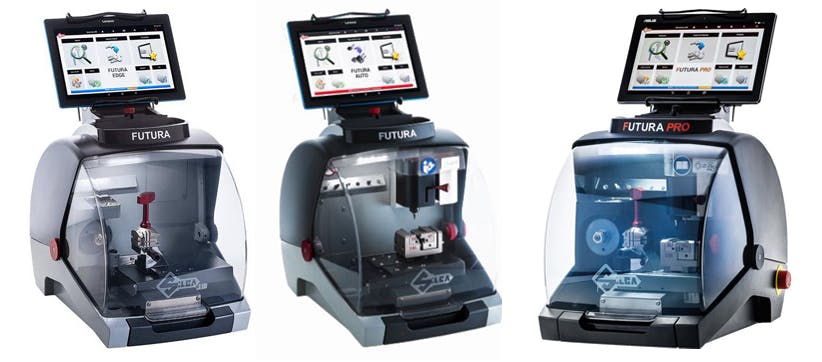 Key Machines
It doesn't pay to have someone else cut your keys. Key machines can quickly duplicate and originate all types of automotive keys, including heavy trucks and motorcycles. Guided by user-friendly software, key cutting is accomplished using a simple set of step-by-step prompts. Various models have the capability to edge cut, laser cut, tibbe cut, tubular cut, cruciform cut and dimple cut keys.
Key Machine Resources
Key Machine Instructional Video
---

Automotive & Transponder Key Blanks
Transponder keys are automotive ignition keys with signal-emitting circuits built inside. Also known as "Chip Keys", they can successfully protect cars from theft in two ways: forcing the ignition cylinder won't start the car and the keys are difficult to duplicate. This is why chip keys are popular in modern cars and help decrease car theft.